January 17th, 2017
Connor Beekman 1-17-17
connor-beekman.pixels.com

Click on any of the images below to view larger and to see purchase options.

Monday was a snowy day in my college town of Golden, Colorado. I woke up to the sight of frosty trees and falling flakes, and was eager to get outside and capture the gorgeous winter scenes with my camera. The snowstorm came at the perfect time, too. In honor of Martin Luther King Jr., there were no classes in session. This gave me the chance to spend about two hours mid-day roaming around town and searching for photo opportunities.

My first stop was Guggenheim Hall, the administrative building for the Colorado School of Mines. It was built over one hundred years ago and features a red roof and gold-capped bell tower. I stood near the base of the steps that lead to the main entrance and tilted my camera upward to fit the tower into the frame. I had to take the photos quickly, or else falling snowflakes would land on my lens and ruin the photo.




Afterwards, I walked across the street to the Kafadar Commons, a grassy lawn that serves as a popular hang-out spot when it isn't covered with snow. Cutting across the lawn is a walkway that is lined with deciduous trees, each of which is the home of a squirrel. It seems that the squirrels are territorial, claiming a single tree as their own and not letting anyone else trespass. I came across one who was perched on a frosty branch and eating something for lunch. I knew I needed to keep my distance in order not to disturb him, but was able to get a good photo by zooming in.




I left the school campus and headed towards the center of town, making my way down slippery sidewalks and across dirty, slushy streets. I arrived at one of my favorite spots in Golden, the Clear Creek History Park, which is an outdoor museum that features reconstructed buildings from an old ranch in the mountains nearby. There's a schoolhouse, blacksmith shop, chicken coop, and a few log cabins. I photographed one of the cabins with South Table Mountain in the background, creating an image very similar to one I took a year ago.




The first photo above was one that I took in November 2015. It was actually much colder that day, but the blue skies made it look a little more pleasant. The darker second photo is from Monday.

Since most of my photographs were lacking color due to the weather conditions, I decided to take a close-up of a small red building at the history park (I did some research later to identify it as the blacksmith shop). The wooden wheel leaning up against the wall made for an interesting photo.




After visiting the history park, I headed about a mile west into Clear Creek Canyon. I walked along the snowy pathway that parallels the creek, passing below the frosty branches of towering cottonwood trees. Not too far into the canyon is a steel pedestrian bridge that crosses to the other side of the water. I stood near the center of the bridge and captured a nice black and white image of the chilly Clear Creek passing beneath me. I ordinarily prefer colored photographs, but the greyscale worked well in this case.




As soon as I made it back to my dorm room I got out my laptop and began downloading the pictures, 208 in total. I looked through them all and selected my favorites, my top pick being the old log cabin. With each of these photos, I spent some time fixing them up by enhancing contrast and reducing noise. Then came the final step, uploading them to my website and putting them on display.
January 11th, 2016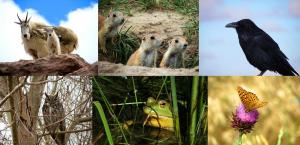 Connor Beekman 1-11-16
connor-beekman.pixels.com

Wildlife is certainly one of my favorite subjects to photograph, as I enjoy the challenge of capturing something so fascinating and unpredictable. Getting the perfect image of a wild animal is often very difficult, but can also be the most rewarding experience of a nature photographer. When it comes to wildlife, I do not have a specialty, but rather try to photograph a large variety of creatures from massive elk to delicate butterflies.

Wildlife Photography Tips

1. Equipment: For most wildlife photographers, a telephoto lens is a must-have accessory, since you can't always get close to wild animals. However, if you plan to take images of insects, reptiles, or other smaller species, a large lens my not be of any value. My camera can reach 60 times optical zoom, allowing me to photograph large animals such as elk. The image below, "Bull Elk", definitely required me to zoom in, as getting close would have been quite dangerous. Many cameras also have a macro setting. You can either use this or manual focus to get close-ups of tiny creatures.




2. Understanding Wildlife: It is essential to have some basic knowledge on the species you are photographing. Firstly, this helps to find animals in their natural habitat, which can be a very time-consuming task. Secondly, a wildlife photographer is much more likely to get a good shot when they understand an animal's behavior. This helps to predict what an animal will do next, a skill that is very beneficial, although not always accurate. In the case of my image, "Anna's Hummingbird", I had to watch her fly from flower to flower and branch to branch for a few minutes before I was able to capture the image. It is best, however, to study behavior earlier because there is not always time to study when actually photographing.




3. Practice: Let's say you are planning a trip to Africa, where you will go on a safari and have an opportunity to photograph an abundance of wildlife. It is important to practice wildlife photography and gain experience before going on a trip like this, rather than waiting for the trip to arrive to start experimenting. I have often found that going to a zoo or wildlife sanctuary can be very helpful. This is a great way to critique yourself on framing and composition. It is also a great way to observe animal behavior. Visiting zoos has helped me capture aesthetically-pleasing images such as "Mule Deer Doe", seen below.




Just like any type of photography, gaining as much experience as possible leads to greater results. Wildlife photography, however, requires a few extra steps, such as doing prior research and practicing on zoo animals or even pets. I continue to learn more about the wonderful world of animals with every day of practice. Wildlife never fails to surprise and amaze me!